Keeping Your Healthcare
Fresh
Hours of Operation
Monday - Thursday
9:00 a.m. - 4:00 p.m.

Friday
9:00 a.m. - 12:00 p.m.

The Food Pharmacy is closed on weekends and all Metro holidays.
Come by for a Visit
The Food Pharmacy is conveniently located on the Lower Level (LL) of Nashville General Hospital at:

1818 Albion Street
Nashville, TN 37208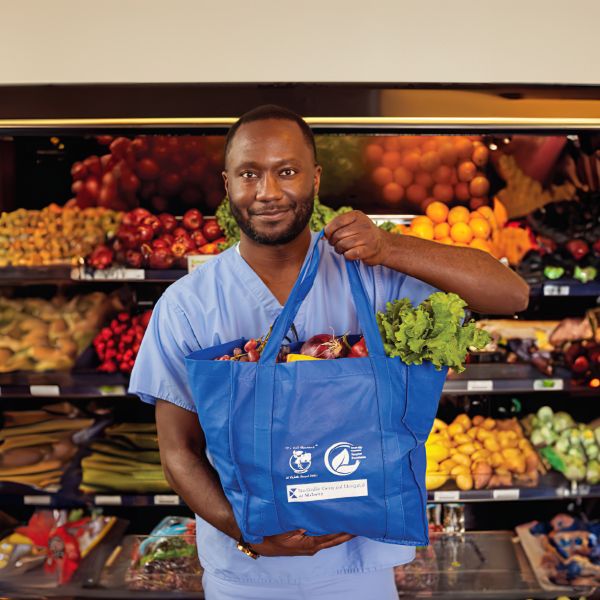 Let us help you on your healthcare journey.
What to expect while participating in the Food Pharmacy program:
To have access to healthy, shelf-stable foods, as well as fresh fruits and vegetables, and meat/fish (when available).
To meet regularly for check-ins with a registered dietitian to learn how your diet may impact your health and chronic conditions, how to cook with the foods provided by the Food Pharmacy and how to create goals to help you adopt healthy eating habits.
To receive help finding social support services that include, but are not limited to, Supplemental Nutrition and Assistance Program (SNAP) benefits and receive contacts at other local organizations that can help you gain consistent and additional access to healthy foods.
Our Purpose, Passion, and Vision
NGH's unique Food Pharmacy program is based on the idea of "food as medicine" and focuses on using food and healthy eating and lifestyle habits to improve the overall health of our patients.
Patients that agree to participate in the Food Pharmacy program are provided nutritious foods, social work services and nutrition counseling over a six-month period at NO COST to them.
Are you eligible to participate in the Food Pharmacy program?
Participants must meet all the below requirements:
You are a current patient of Nashville General Hospital (NGH) or Nashville Healthcare Center (NHC)
You meet the screening guidelines for food insecurity, as determined by a staff member
You are given a Food Pharmacy prescription by a NGH/NHC provider