Breakfast basics.
Start your day off right with a balanced meal.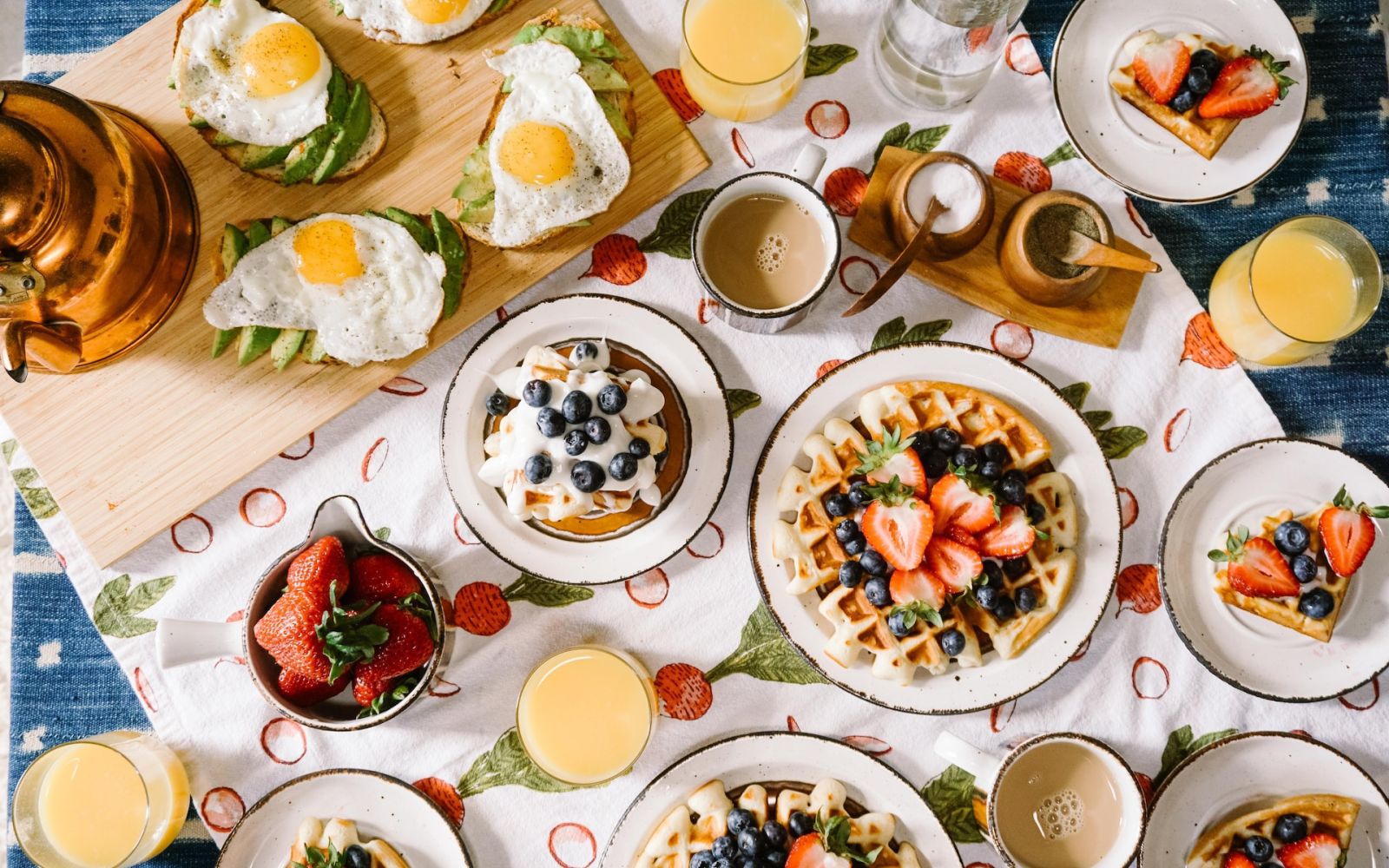 Often called "the most important meal of the day", a healthy breakfast can boost your energy levels and help reduce the risk of chronic diseases. 
People who skip breakfast may experience increased blood sugar levels after both lunch and dinner. In addition, eating a nutritious breakfast of whole grain cereal and milk may help the body better regulate insulin levels. Popular breakfast foods such as whole-grain cereals and breads, milk products, and fruit may help reduce your risk for metabolic syndrome. This condition is linked to being overweight and increases the risk for heart disease and type 2 diabetes. 
Start your day with foods from at least three of the five food groups. The food groups are fruits; grains; vegetables; proteins; and dairy. A healthy breakfast can include a lean protein, whole grains like oatmeal, and fruit. You could also make a breakfast burrito with scrambled eggs, low-fat cheese and a whole wheat tortilla or a parfait with low-fat plain yogurt, fruit and whole grain cereal.
The more food groups you can include in your breakfast, the greater the benefits:
Fruits: Most fruits are low in fat, sodium and calories. Fruit does not have cholesterol and the dietary fiber from fruits helps reduce blood cholesterol levels, maintain a healthy blood pressure and may lower the risk of heart disease. 
Grains: A breakfast with whole grains, like oatmeal and whole wheat breads, includes the B vitamins thiamin, riboflavin and niacin, which play a key role in metabolism by releasing energy from protein, fat and carbohydrates. Whole grains are also a source of magnesium, which helps build strong bones and release energy from muscles, and selenium, which is important for a healthy immune system.
Vegetables: Most fresh vegetables are naturally low in fat and calories. Like fruit, vegetables are an important source of nutrients including potassium, dietary fiber, folate, vitamin A and vitamin C.
Proteins: Lean meats, nuts, soy products and eggs include protein, B vitamins, vitamin E, iron, zinc and magnesium. Protein is important for bone, muscle, cartilage and skin health. It also provides a steady source of fuel that helps gives you energy and curbs hunger.
Dairy: Dairy is the source of many nutrients including calcium, potassium, vitamins A, D and B12, and protein. Look for low-fat or fat-free products that are low in saturated fat.
Healthy breakfast ideas.
Here are a few easy-to-prepare healthy breakfast ideas:
Oatmeal made with rolled oats, low-fat milk and fresh fruit.
Whole grain cereal with low-fat milk and fresh fruit.
Fresh fruit, raw nuts and a slice of whole grain toast.
Whole grain toast or English muffin with hard boiled eggs and tomatoes.
Salmon with whole grain bagel and cheese.
Smoothie with fresh fruit, vegetables and yogurt.
Low-fat yogurt with fresh fruit and raw nuts.
Whole wheat English muffin with turkey and cucumbers. 
Read nutrition labels.
Many pre-packaged breakfast foods include processed grains and high levels of sugar and sodium. The "% Daily Value" (% DV) column on nutrition labels show how much a serving contributes to your total daily diet. As a general rule look for foods that are:
Higher in % DV for dietary fiber, vitamin D, calcium, iron and potassium.
Lower in % DV for saturated fat, sodium and added sugars.
5% DV or less of a nutrient per serving is considered low. 20% DV or more of a nutrient per serving is considered high.
Not everybody's diet and nutrition needs are the same. Before making any radical dietary changes, talk with your healthcare professional to determine how best to achieve your wellness goals.
Do you need access to nutritious foods?
Nashville General Hospital provides comprehensive care for all of the patients we serve. This includes addressing the food insecurity of our patients and the community through the distribution of no-cost, nutritious foods, including fresh produce and shelf-stable foods. Learn more about our Food Pharmacy and how to apply for this program .
This information is not intended to be a substitute for professional medical advice. You should talk with your primary care physician or other qualified medical professionals regarding diagnosis and treatment of a health condition.
Sources: