Extraordinary Nurse Recognized At Nashville General Hospital: Elizabeth Knox, RN
Elizabeth Knox, RN of Nashville General Hospital was recently honored with The DAISY Award® For Extraordinary Nurses.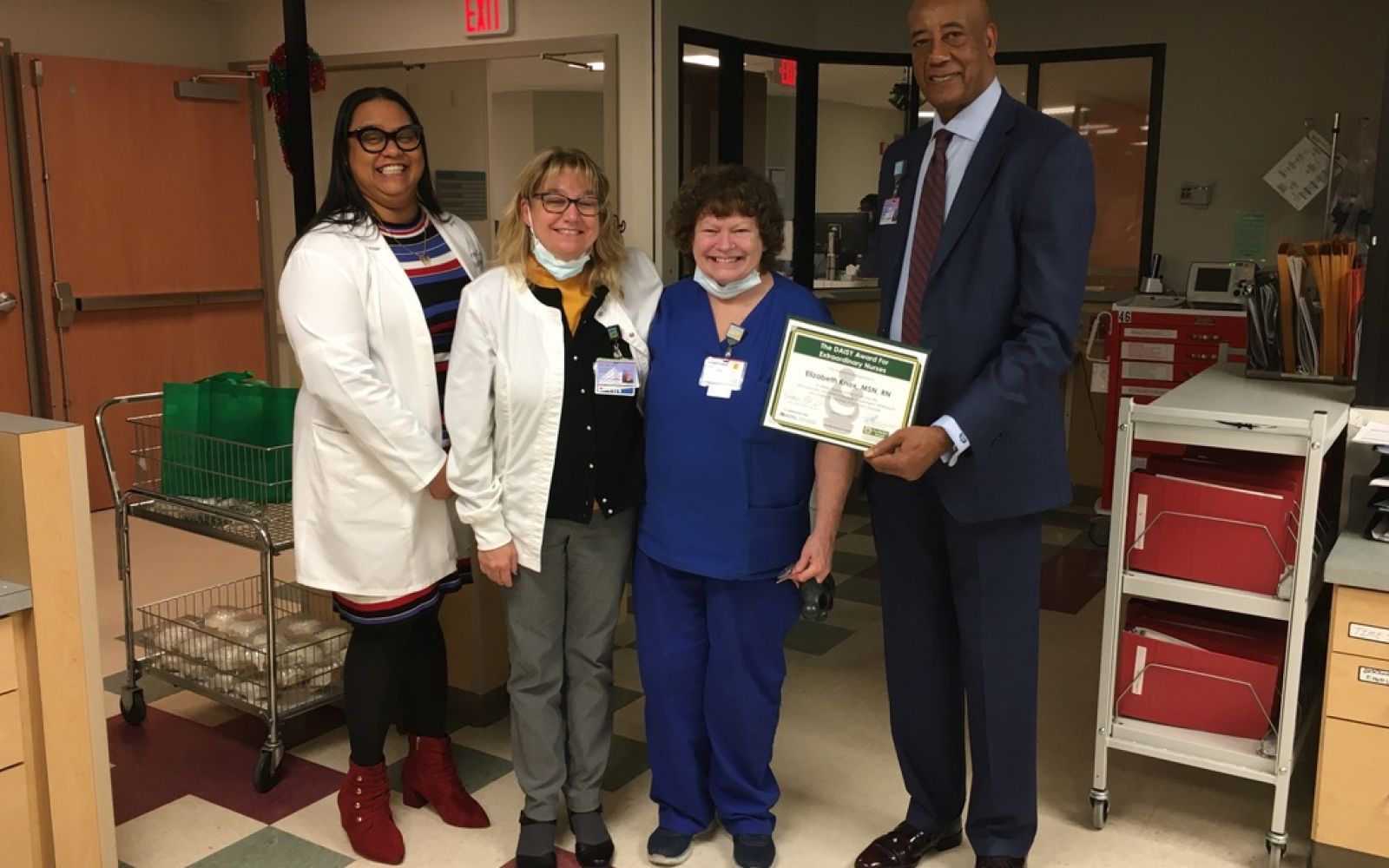 February 28, 2023 (Nashville, TN) – Elizabeth Knox, RN of Nashville General Hospital was recently honored with The DAISY Award® For Extraordinary Nurses. The award is part of the DAISY Foundation's programs to recognize the super-human efforts nurses perform every day.
The nomination submitted from a patient read in part: "Her care, support, and advocacy of a patient who was waiting to be transferred to Hospice (but was unable to do so in time) created a peaceful and empathetic environment for the patient. Sometimes it is not a nurse's job to heal. Sometimes the main goal is to provide comfort. Elizabeth did this in spades.
It was said that Elizabeth created the most peaceful death anyone could hope for. Elizabeth always ensured there was quiet, the patient was in no distress and kept in communication with the primary team to ensure the correct measures were in place to properly care for her patient. All this while also keeping a positive attitude for the rest of her assignment which she had to continue to care for while administering comfort care. Not all patients are able to nominate their nurses for a variety of reasons. But I feel confident in saying that Elizabeth was an angel for her patient that day."
The not-for-profit DAISY Foundation was established by family members in memory of J. Patrick Barnes. Patrick died at the age of 33 in late 1999 from complications of Idiopathic Thrombocytopenic Purpura (ITP), an auto-immune disease. The care Patrick and his family received from nurses while he was ill inspired this unique means of thanking nurses for making a profound difference in the lives of their patients and patient families.
Bonnie Barnes, FAAN, Doctor of Humane Letters (h.c) and Co-Founder of The DAISY Foundation said, "When Patrick was critically ill, our family experienced first-hand the remarkable skill and care nurses provide patients every day and night. Yet these unsung heroes are seldom recognized for the super-human work they do. The kind of work the nurses at Nashville General Hospital are called on to do every day epitomizes the purpose of The DAISY Award."
For a complete listing of healthcare organizations currently running the DAISY program, please go to https://DAISYfoundation.org
About Nashville General Hospital
Founded in 1890 as City Hospital, the area's original community hospital, Nashville General Hospital provides quality care for more than 58,000 patients each year, regardless of their ability to pay. Accredited by the Joint Commission, Nashville General Hospital's mission is to improve the health and wellness of Nashville by providing equitable access to coordinated patient-centered care - including specialty care through the 24 clinics of the Nashville Healthcare Center - and training tomorrow's clinical caregivers. For more information, visit NashvilleGeneral.org.
About The DAISY Foundation
In addition to the DAISY Award for Extraordinary Nurses, the Foundation expresses gratitude to the nursing profession internationally in over 5,000 healthcare facilities and schools of nursing with recognition of Nurse-led Teams, Nurse Leaders, Nurses Advancing Health Equity, Nursing Faculty, Nursing Students, Lifetime Achievement in Nursing and through the J. Patrick Barnes Grants for Nursing Research and Evidence-Based Practice Projects, Medical Mission Grants and their new Health Equity Grant programs. More information is available at http://DAISYfoundation.org